Post-purchase experience: The new highlight of the customer journey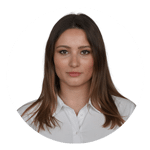 by Carolina Engl – 12 Min. read time
last updated 19/01/2023
Competition in eCommerce is huge and the success of an online store can no longer be measured by a good product only. The customer experience – what customers experience during and after the purchase – determines whether new customers come and buy. Every contact with buyers leaves traces – whether they are positive or negative depends on the online store's customer experience. One part of the customer journey is particularly often neglected – the post-purchase experience. This includes everything that happens after clicking on the purchase button. Shipping, customer service, returns, but also support and communication. This is where one of the most important and critical phases begins – the one in which the promise made before the purchase must be kept. 
Proactive communication is an important lever for convincing buyers of the online store's value. In this article, you will learn how to optimize the post-purchase experience, how to prove your online store's value with proactive notifications, and what role the Klaviyo x Alaiko integration plays in this objective.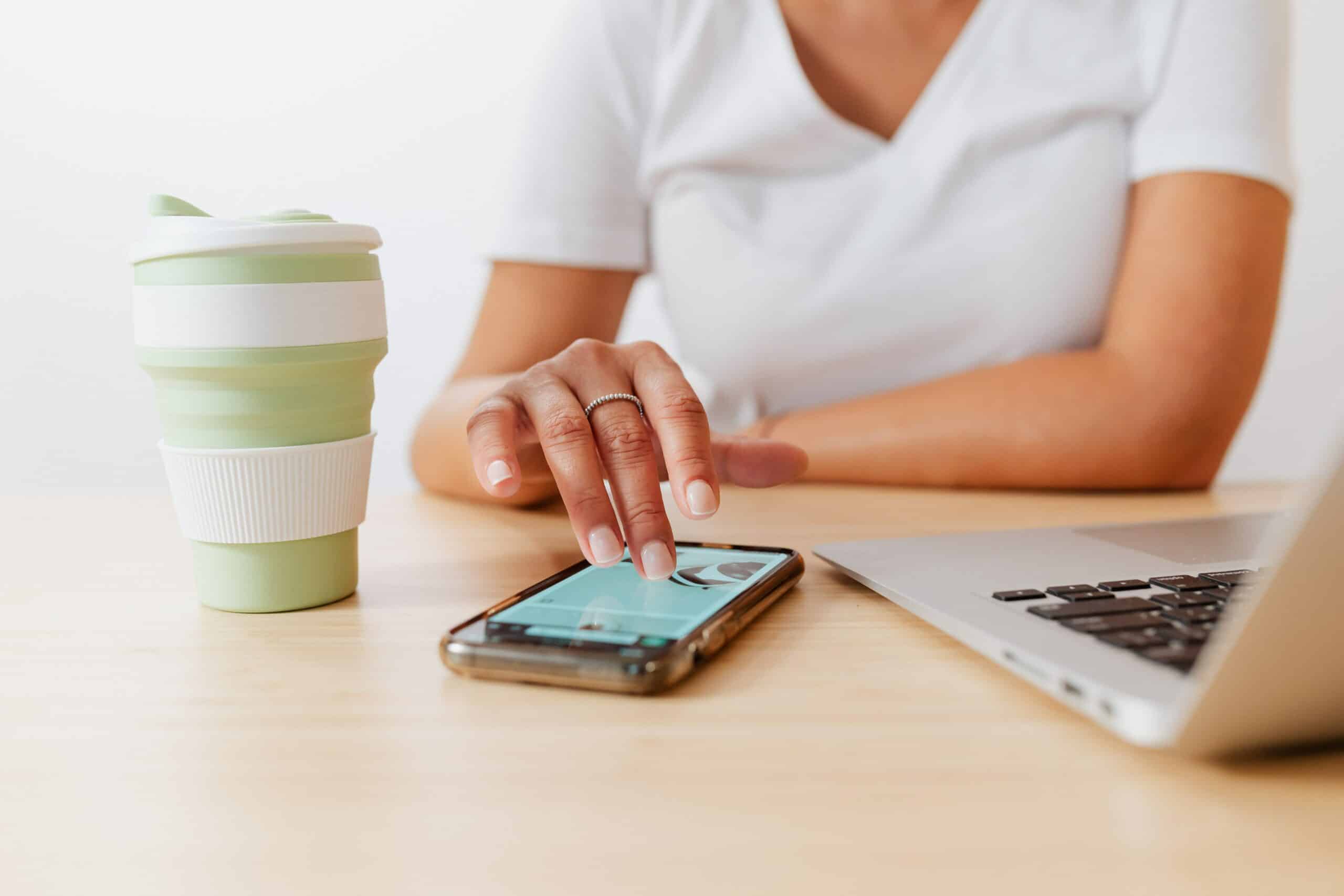 Proactive communication as the key to a successful post-purchase experience
Several studies on post-purchase expectations confirm the importance of proactive communication during the customer journey. A full 82% of consumers claim they want to be informed proactively by online stores about the status of their order. For a pleasant shopping experience, online stores should therefore design the communication with their customers by themselves, instead of leaving it – as is so often the case – to the carrier. This creates closeness and transparency, but also offers a perfect basis for marketing activities since shoppers are particularly receptive in this phase. 
Post-purchase emails as a new marketing channel
While mere marketing emails with coupons and discount promotions encourage repeat purchases, post-purchase emails aim at long-term customer loyalty and stronger retention. They accompany customers during all phases of the post-purchase journey by communicating relevant information at the right time. If the emails are tailored to individual situations and are personalized, customers not only thank you with a repeat purchase but ideally become loyal fans. 
Post-purchase emails are ideally part of an automated email marketing sequence and send shoppers updates about their orders. But that's not all: post-purchase emails are more than just proactive information – they are a whole new marketing channel. If used strategically, they can be leveraged for upselling, generating positive reviews, or increasing customer loyalty. What's more – post-purchase emails have immensely high open and click rates, values around 73% are not uncommon here. A dream for all email marketers!
In summary, the benefits of post-purchase emails are as follows:
They create an outstanding post-purchase experience  

They are the best prerequisite for increased customer loyalty and lifetime value

They lead buyers back to the online stores and thus enable repeat purchases

They increase satisfaction with the product

They are the most effective way to directly collect customer feedback
However, creating meaningful post-purchase notifications as part of a successful email marketing strategy comes with challenges. These include:  
Data integration and analysis: The foundation for successful email marketing is correct and sufficient data. Today only a few online stores have efficient methods for collecting data from customers, putting them into the right context, and ultimately interpreting them. The chosen email marketing software should therefore be linked to other tools used, such as the shop system or the fulfillment software.
Segmentation: Not all customers should receive the same email. Segmentation is the keyword here. A particularly helpful tool for getting the most out of email marketing by targeting recipients and increasing the relevance of emails. 
Personalization: The next step after segmentation is personalization. If email content is individually tailored to recipients, it has a higher chance of commercial success. The basis for personalization can be the purchase history, location, or the used device.
Klaviyo x Alaiko: Post-purchase emails become the highlight of the customer journey
Who wants to contact customer service for order updates when it can be much easier? Post-purchase emails proactively inform customers about the most important steps of the shipping process. Creating and implementing these emails comes with challenges. The good news is that online merchants do not have to overcome these challenges alone.
Klaviyo: The marketing automation tool for higher revenue
With Klaviyo, proactive communication is mastered with ease. As an email marketing automation tool, Klaviyo segments customer data and enables online merchants to send automated emails. This closes the communication gap and increases revenue per customer. Klaviyo users can build email flows from drag-and-drop templates, tailored to each step of the post-purchase journey and the buyer's situation. This includes for example welcome emails, discounts or rating prompts.
The Klaviyo x Alaiko Integration: Post-purchase email marketing at the right time
With Klaviyo as the leader in email marketing and Alaiko as the fulfillment service provider for eCommerce champions, an integration between the two systems is the optimal solution for an outstanding post-purchase experience.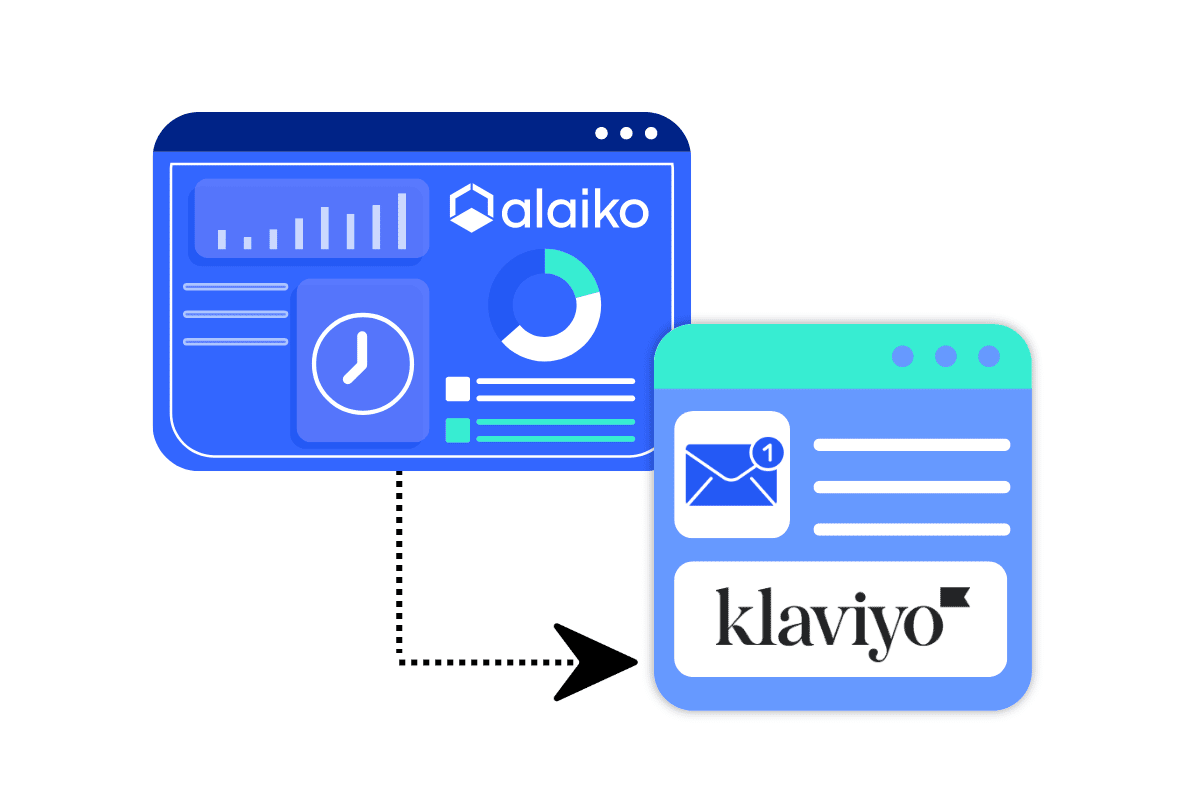 How does the Klaviyo x Alaiko integration work?
Fulfillment events, such as a change in shipping status, are captured and sent to Klaviyo via an API integration, thanks to the deep integration of the Alaiko Logistics Operating System ® with the warehouse and with carriers. Based on the information sourced from Alaiko, online stores use these "triggers", which are connected to an order,  in Klaviyo. The Klaviyo x Alaiko integration is an all-in-one solution for email marketing automation based on fulfillment data. This means that Alaiko customers who also use Klaviyo not only benefit from accurate, real-time shipment information but can also proactively share it with their customers. This provides a clear added value for the post-purchase experience. 
The triggers from which e-mail flows can be generated are based on the following shipment events, for example: 
Address correction required

Parcel shipped from the warehouse

Parcel is on its way

Parcel awaiting pickup (from a post office/pick-up location)

Shipment was successfully delivered

Return label or return instructions created

Return has been received in the warehouse
What does that look like in practice? Example of an e-mail flow: "Shipment was successfully delivered".
There are countless ways to create an email flow depending on a trigger. A classic example is the e-mail sequence that is activated when the shipment is successfully delivered. This is particularly suitable for receiving feedback from customers or for up-selling and cross-selling. The order has just arrived, so positive engagement is very likely.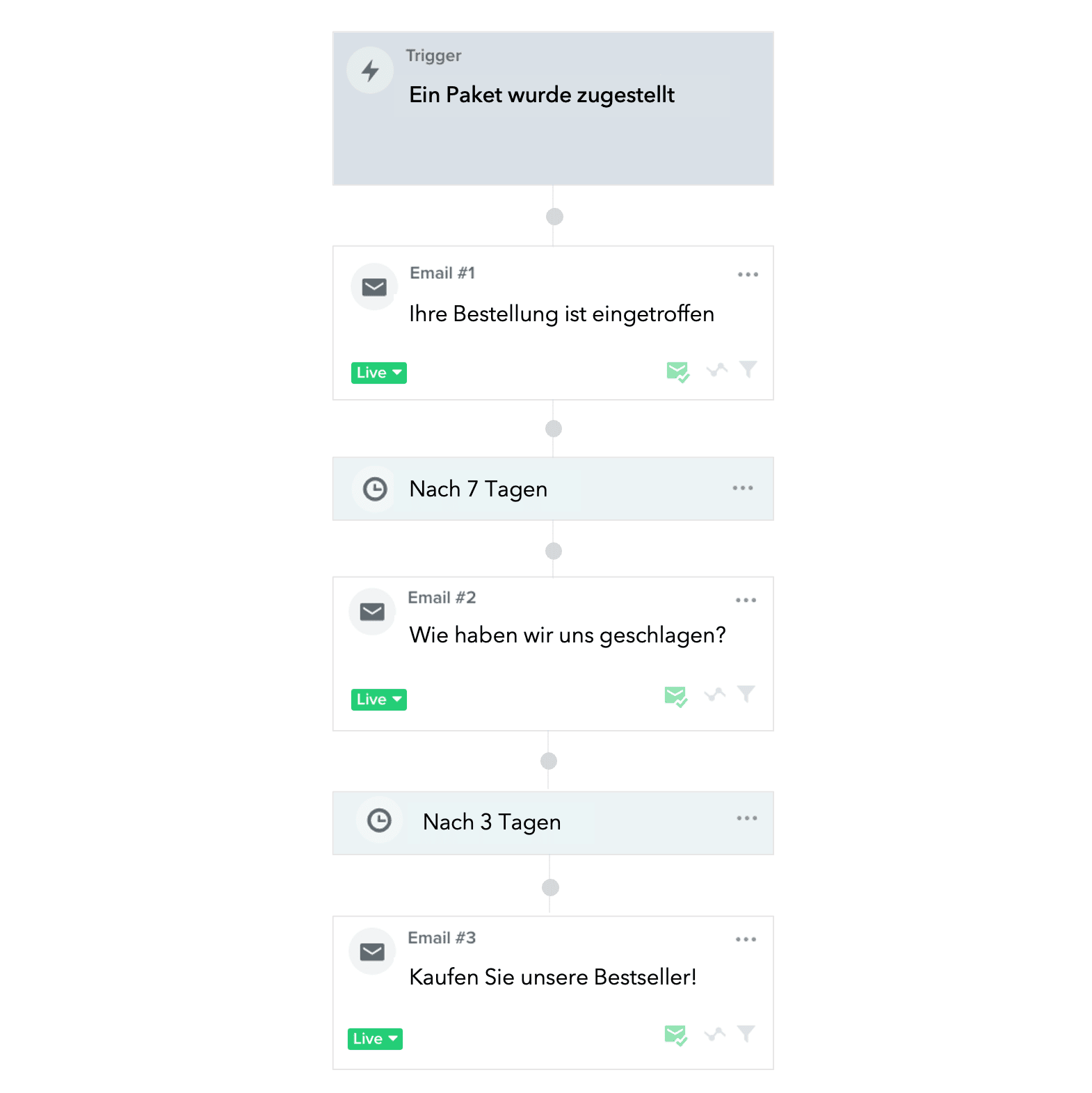 Buyers are informed about the successful delivery. Now is exactly the right time to present other products to them. How about another matching strap for the handbag, for example? The positive shipping experience is also still fresh in the shopper's mind. So three days later, a follow-up e-mail follows, asking the customers to rate the product. The time interval between delivery and the rating request as well as the content of the email can be customized in Klaviyo.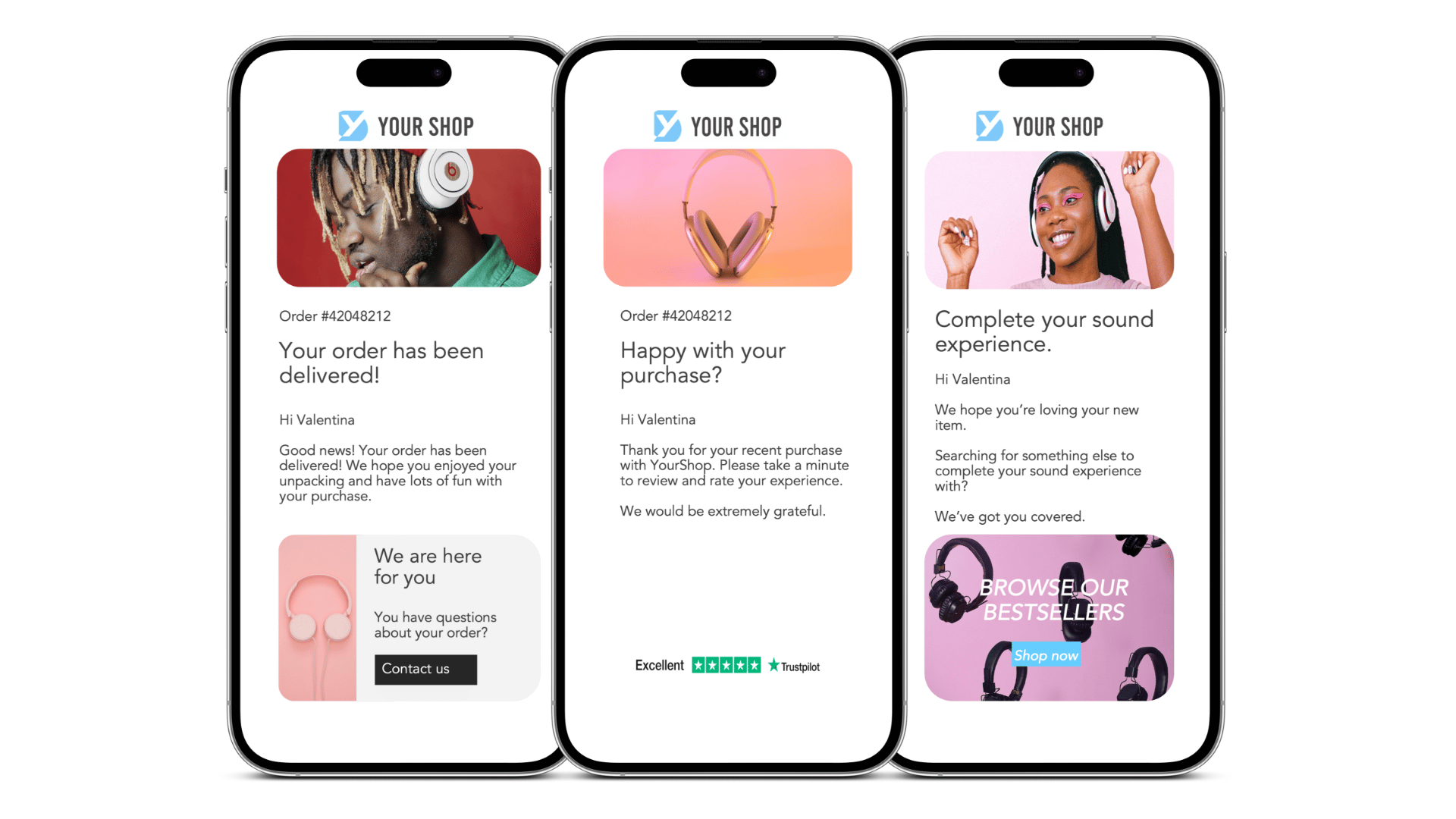 The benefits of personalized post-purchase communication with Klaviyo & Alaiko
The right message at the right time increases customer satisfaction
Using Klaviyo and Alaiko closes the communication gap in the post-purchase experience. Thanks to the segmentation of customer data along the buyer journey, customers proactively receive the right notification at the right time. It is automated and personalized and increases customer lifetime value.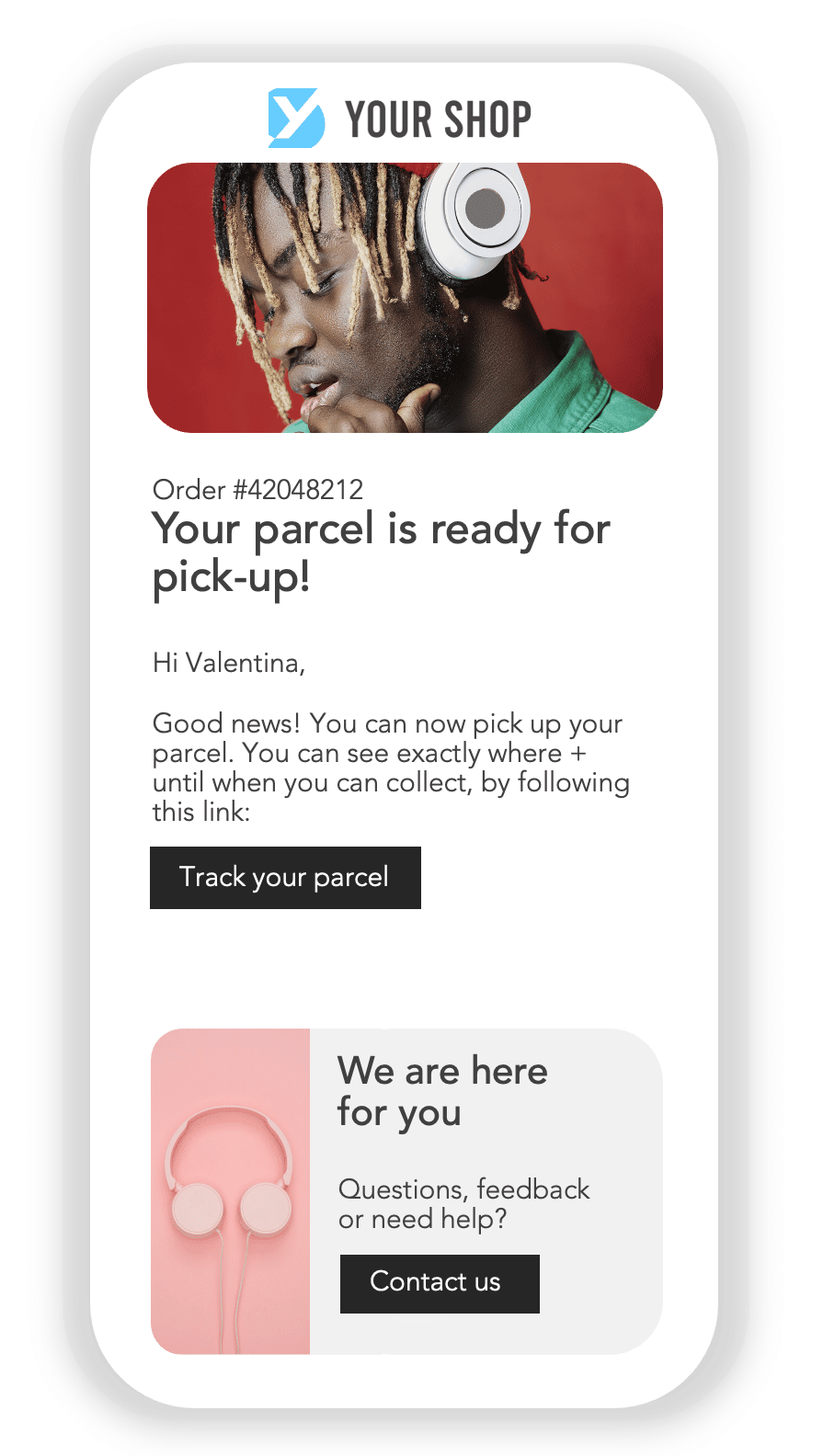 Effortlessly create emails in corporate design via drag and drop
No programming skills required: Klaviyo offers intuitive drag-and-drop email templates. The emails can be effortlessly designed in the colors of the store, with your logo, images, and much more. Customers experience a consistent brand image.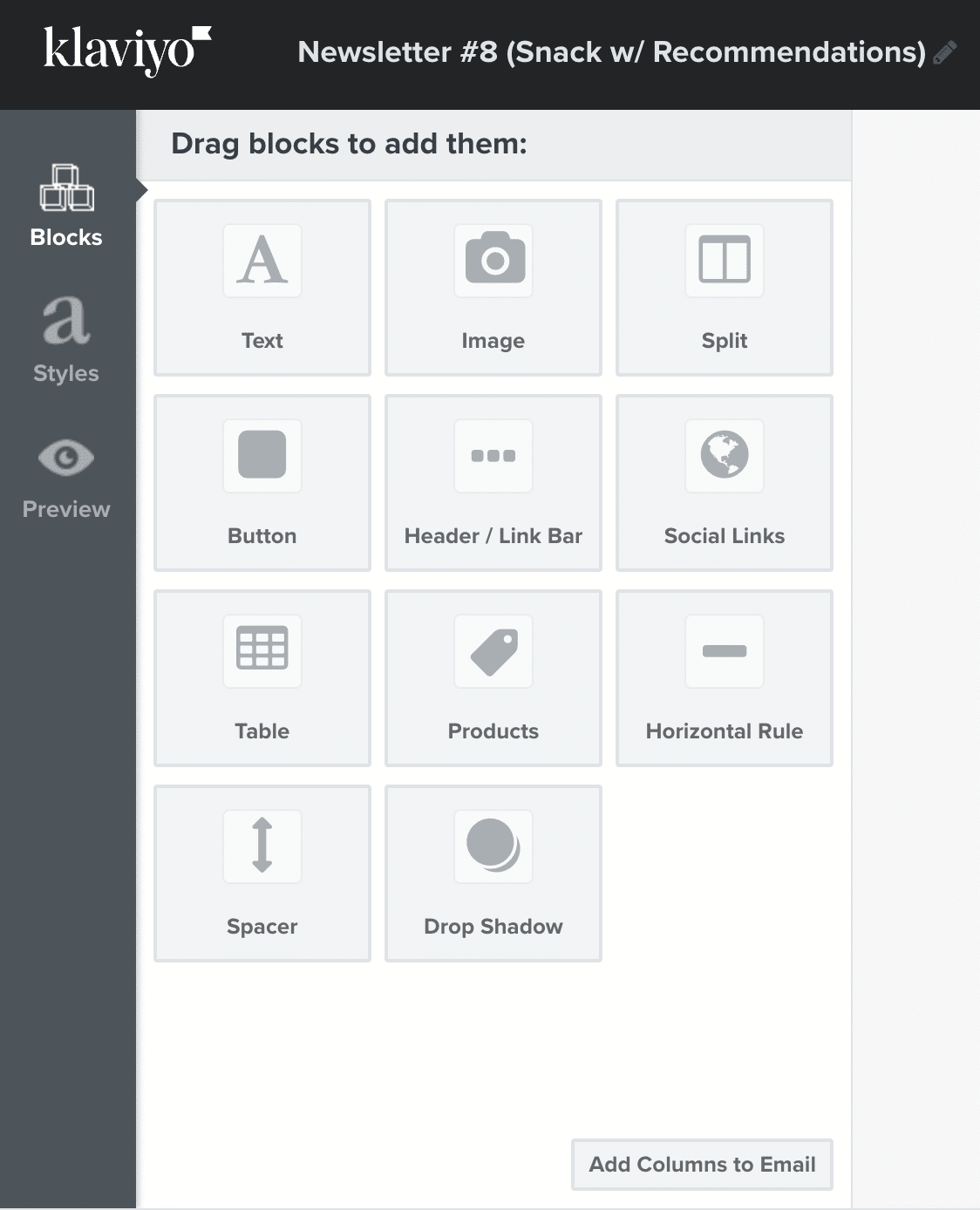 Set up flows independently: For individual store requirements and revenue increase
The Alaiko shipping information is sent automatically to Klaviyo. In Klaviyo, the desired triggers can be selected and set up as an email flow. This allows online stores to choose the triggers that are particularly relevant for their customers and that can be used strategically for upselling or customer loyalty.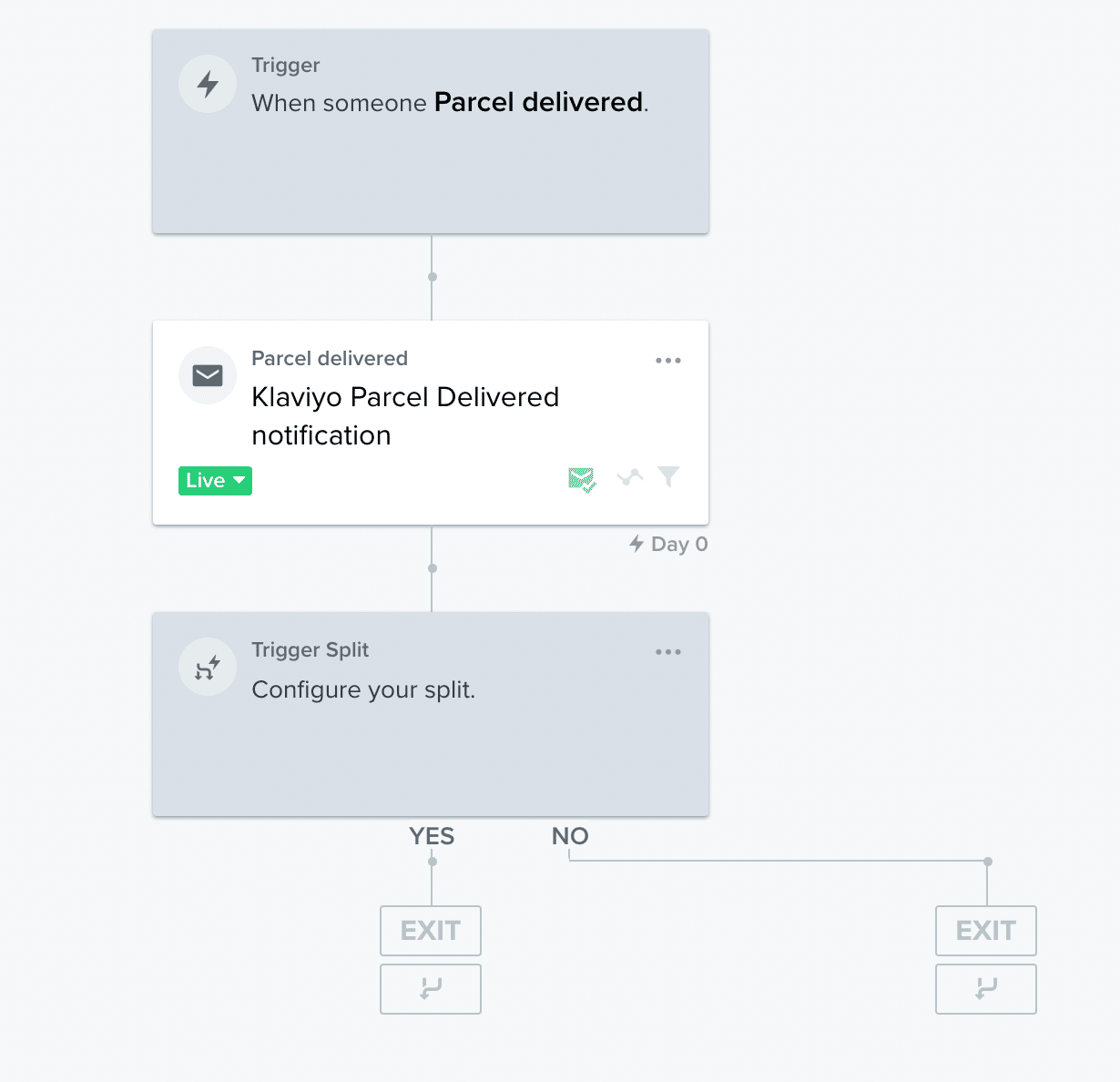 KPIs analysis and communication optimization
Klaviyo provides complete data transparency for analyzing post-purchase emails and the results of communication flows. This includes open rates, click rates, conversion rates as well as spam complaints.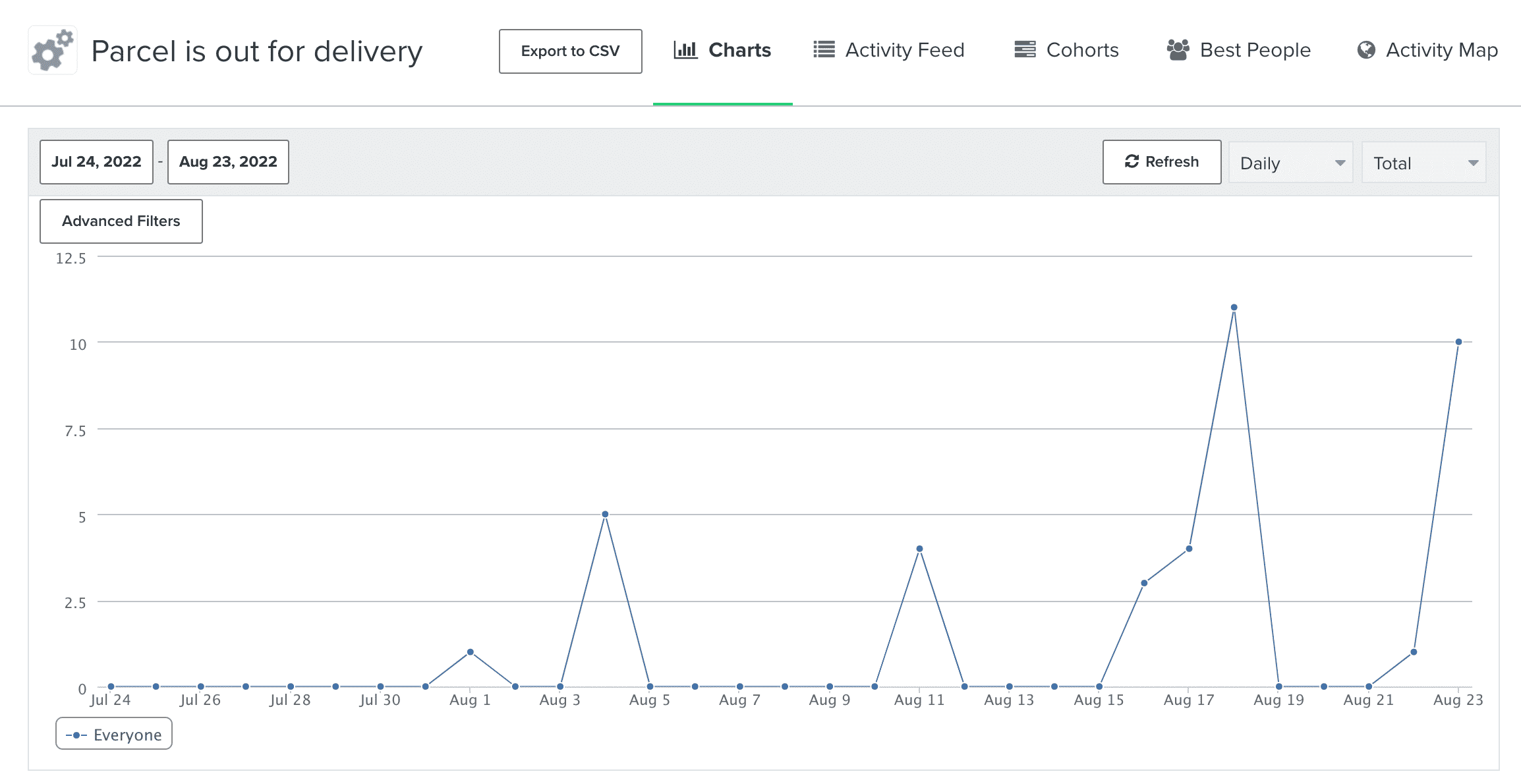 Here's what customers say about Klaviyo x Alaiko
Hey Marly: Personalized post-purchase communication with Klaviyo x Alaiko
Hey Marly is a successful eCommerce brand with a special business idea: sandals with an innovative change concept. Increasing order numbers were the reason to choose Alaiko as a fulfillment partner. Alaiko's experience offerings create a consistently positive post-purchase experience despite the high order volume. The integration with Klaviyo has further enhanced this. The open rate of post-purchase emails averages 68 percent. heir customers know the status of their orders, which saves time in customer service. Hey Marly's emails announcing successful delivery also include personalized product recommendations. They increase traffic to the online store and ensure a two percent re-order rate
bumpli ®: Sophisticated Post-Purchase Experience with Klaviyo x Alaiko
A nightlight for baby bottles – bumpli's ® online store took off with this unusual idea. Alaiko supports bumpli® with its track-and-trace solution, which, thanks to a link between Alaiko and Shopify, transmits data on orders and returns in real-time. This is bumpli's® basis for proactive post-purchase communication. Moreover, bumpli® uses the Klaviyo x Alaiko integration to create additional email flows for all relevant steps of the shipping process. The proactive emails are very well received by customers. Open rates of up to 73 percent speak for themselves. Re-sales are 4 times more frequent with Alaiko-triggered emails than with other marketing emails. Thus, bumpli® increased the conversion rate by up to 44 percent.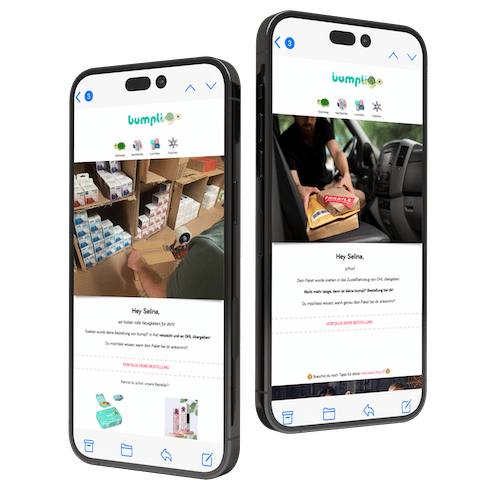 Technical setup: Klaviyo x Alaiko
The integration set-up between Klaviyo and Alaiko is done in a few minutes. The eCommerce store logs into Klaviyo and copies the Public API Key. As an Alaiko user, the eCommerce store can log into the Alaiko Operating System ® and insert the Klaviyo API Key under integrations, more precisely Klaviyo settings. As a last step, the first email flow needs to be created and the perfect post-purchase communication can begin.
A positive experience during the post-purchase phase has not yet become standard for all eCommerce stores. However, this is what shoppers have come to expect from online stores. Thus, post-purchase communication becomes an important differentiator from other online stores. With the integration of Alaiko and Klaviyo, an outstanding post-purchase experience is made very easy. Klaviyo x Alaiko: best-in-class communication tool x real-time logistics data = outstanding post-purchase customer experience.
Why is proactive post-purchase communication important?
Customers want to be informed about the status of their orders.  If the online store proactively and effectively notifies them about the individual steps of the shipping process, fewer inquiries are made in customer service and the volume of tickets is reduced. Post-purchase emails are also particularly useful for upselling and cross-selling, increasing customer loyalty and more positive reviews.
What is Klaviyo?
Klaviyo is an email marketing tool and leader in post-purchase communication. Thanks to Klaviyo, users can segment their customer data, set up email flows based on self-selected triggers, and proactively notify customers throughout the entire customer journey.
How does the Klaviyo x Alaiko integration work?
The Klaviyo x Alaiko integration connects Alaiko's shipping data from the Alaiko Operating System® with Klaviyo's email marketing. Via the direct connection, data is sent in real-time from Alaiko to Klaviyo. Individual e-mail flows can be set up from this data.
How do you connect Klaviyo with Alaiko?
The connection between Alaiko and Klaviyo works in three simple steps: Log in to Klaviyo and copy the public API key, then paste it into Alaiko under the Klaviyo settings in the "public API key" field. Create the first email flow and you're ready to go!
The cover picture is by Karolina Grabowska, the other pictures are by Klaviyo and Alaiko.
Carolina Engl
Content Marketing Manager