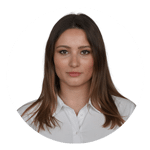 by Carolina Engl  – 6 Min read time
last updated 20/12/2022
Despite all the criticism, the giants of online retail will continue to grow in the coming years. Why? From the consumer's point of view, these companies are one thing above all: reliable. Those who order their goods from the company with the smiley logo, for example, can be sure of prompt delivery and accommodating exchange conditions.
So before customers shop elsewhere, they are keen to find out whether other companies offer a similarly high quality of service. An excellent customer journey is not only possible in the D2C sector, it is, to a certain extent, taken for granted by consumers as a condition for making a purchase.
Even before they actually visit the store, they will almost certainly go to one of the many ratings portals where consumers report on their experiences. They are looking for social proof, proof from the community that the company delivers what it promises.
In this article, we would like to show you how strongly negative reviews can affect a company's success, based on current statistics. Furthermore, we analyze the cause of bad reviews, take a look at typical negative reviews and consider how retailers deal with unpleasant feedback.

Contrary to all criticism, the Internet is extremely transparent in large parts of the world. Even a brief search yields countless pieces of information about a company, its goods, service, and business practices. An impeccable reputation is the most important currency in e-commerce; as the figures also prove beyond doubt:
A representative survey by the Search Engine Land web portal revealed that 88 percent of Internet users rely on online reviews
According to the London-based market research company The Nielsen Company 84 percent84 percent of consumers make their purchasing decisions based on recommendations from satisfied customers.
The survey by Search Engine Land also found that web users need to see ten positive reviews before they are convinced of a company's trustworthiness.
Most recently, the consulting agency invesp found that shoppers are willing to spend up to 31 percent more on a purchase if they are convinced of its trustworthiness through good reviews.
Every negative review hammers away at these figures and means a loss of trust. What is particularly serious is that bad reviews scare off potential buyers – that could become expensive: it costs a company five times as much to win a new customer as it does to keep a regular customer for the long term.
Data review: What is typically the content of a negative review?
Accordingly, good reviews are worth their weight in gold, while bad reviews hang over a store like a sword of Damocles. At this point, it makes sense to take a closer look at the negative reviews of some consumers.
So let's take a look at the statistics of a major rating portal and select two stores. Both offer accessories and jewellery – the first with an average rating of 4.7/5.0 stars, the second with only 3.3/5.0 stars. We'll pick examples of the worst reviews in each case:
The 4.7/5 star rating store
An anonymous user writes:
"Don't buy anything from them.. Pictures on the website look nice and fancy but when you get the jewellery it looks very cheap…"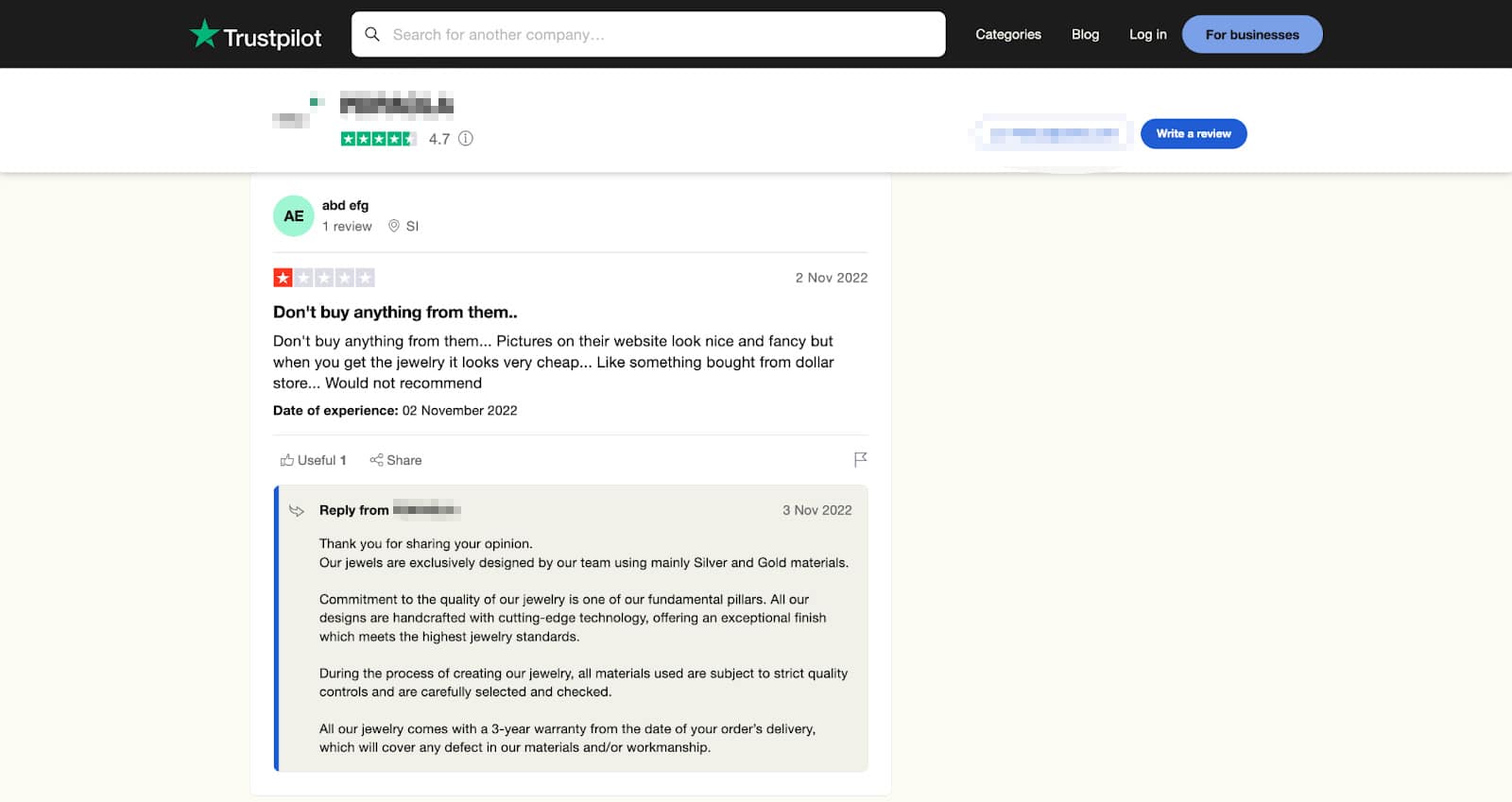 Another user says:
"Very bad quality. The stones of the letter necklace are falling out after only 1-2 months."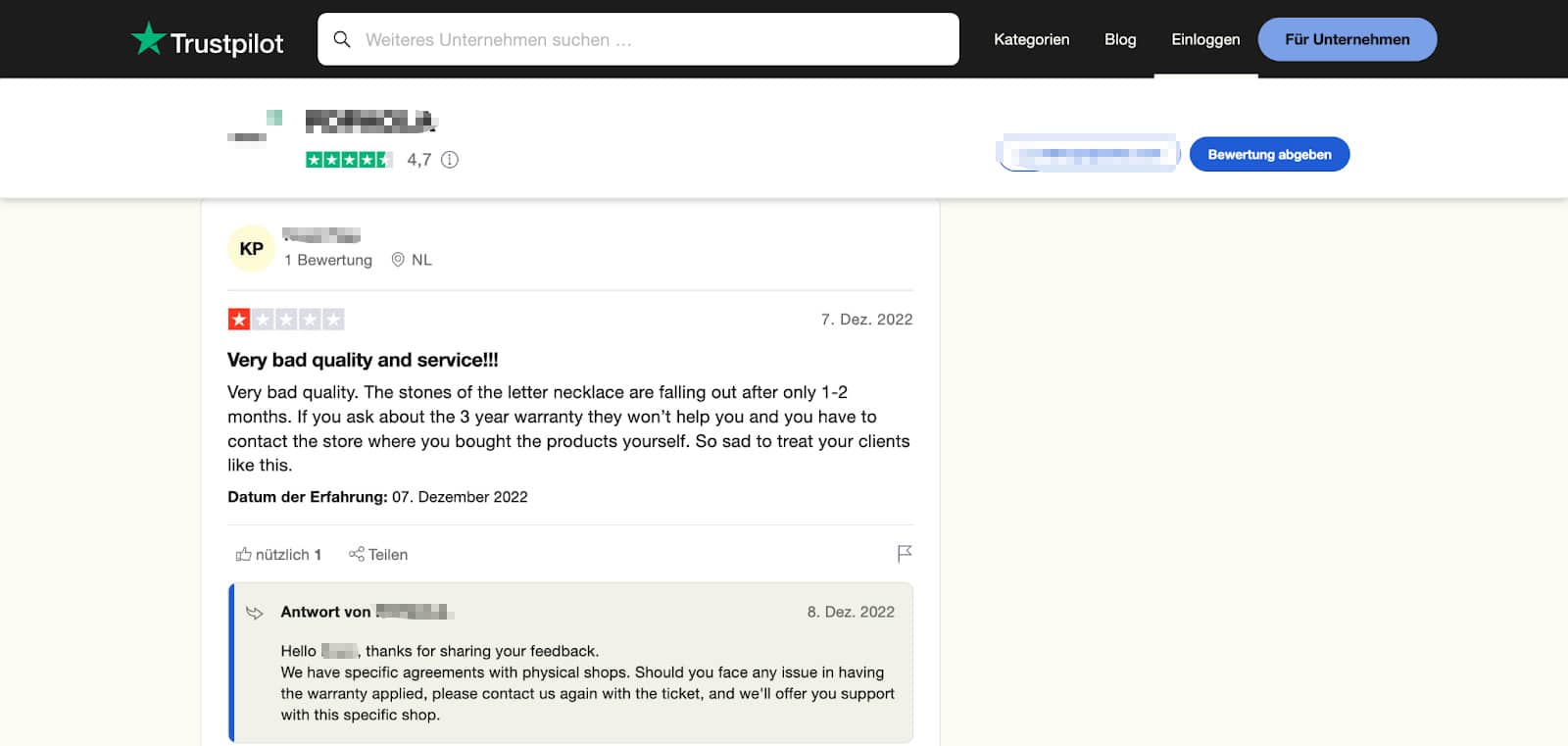 The 3.3/5 star review store
One user said:
Emailed the customer help line 4 days before my package delivered and they messaged me the day it finally shipped to tell me I had to pay a fee to change their delivery address."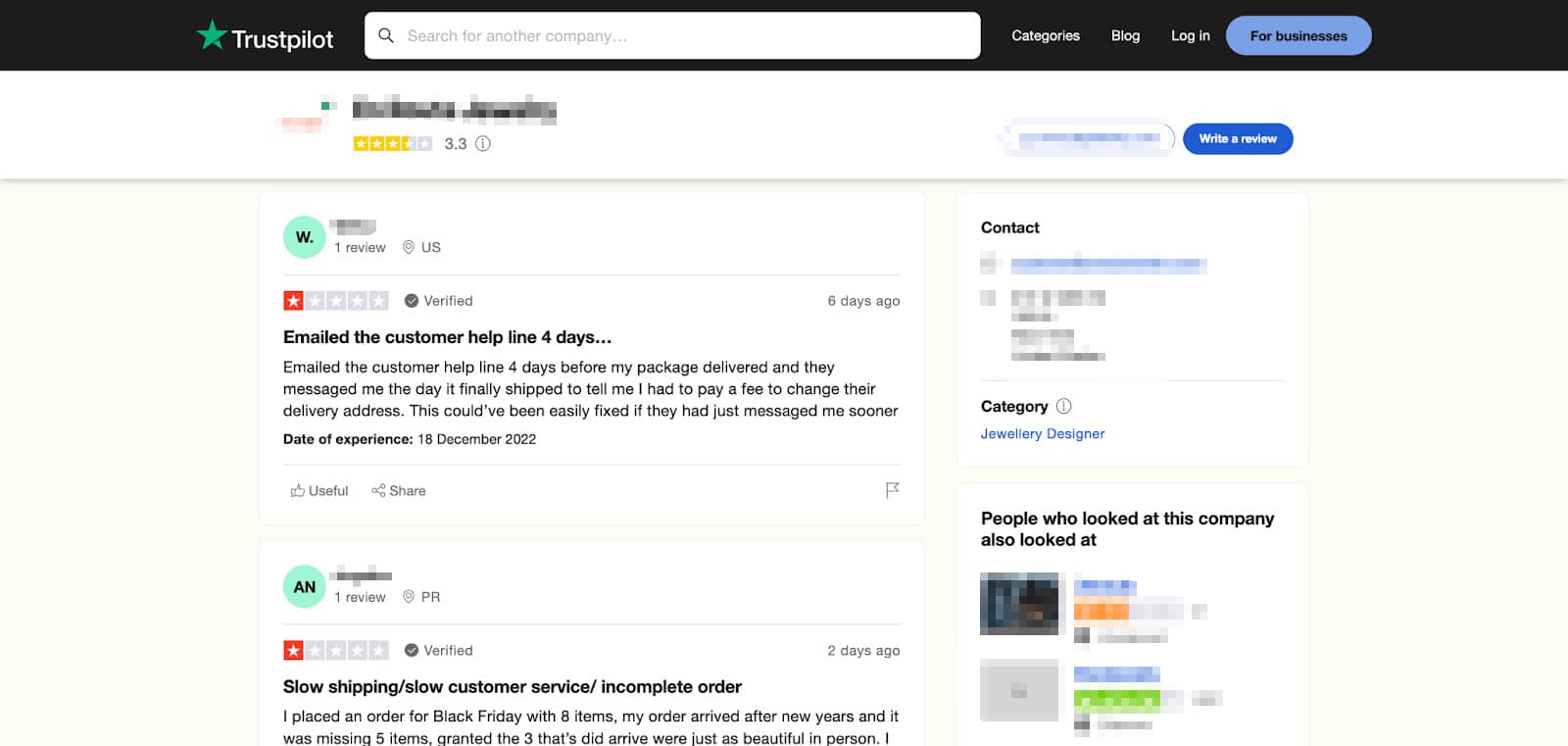 Another user tells this story:
"I ordered a necklace during Black Friday. It's been 2 weeks and I did not get a confirmation email and I haven't heard anything about my purchase."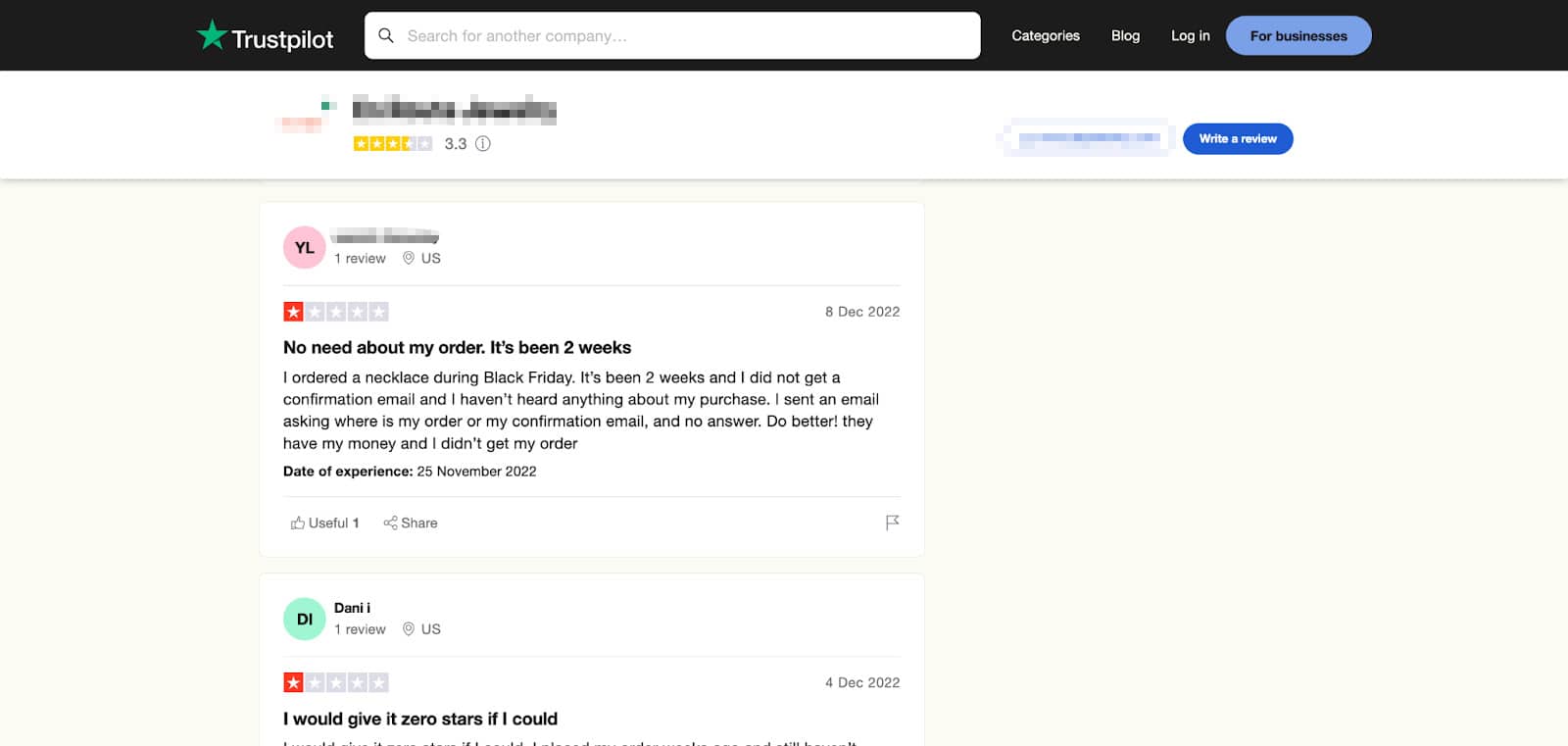 Analysis: What are the reasons for the bad ratings?
It is immediately apparent that the reasons for customers to give a bad rating differ significantly between the five-star store and the three-star store.
They can be broken down as follows:
Defects in the product
The first store we looked at gets most of its bad ratings because shoppers are dissatisfied with the quality of the: E.g. necklaces fall apart or paint from earrings came off.
Here, work must be done on quality assurance, a serious discussion must be held with the supplier, or the company's own product must simply be improved. The main thing to remember here is that all options for avoiding negative ratings in the future are entirely in the hands of the company. All deficiencies are with the manufacturer and can be remedied on the company's own initiative.
Therefore, the store receives one or two negative reviews, but it can always react to them and solve the problem – and thus achieve its high number of stars.
Errors in logistics and incorrect management of delivery time expectations
Store number two, on the other hand, has to contend primarily with problems in logistics: goods are delivered incorrectly or reach customers only after a long delay. The delivery times do not correspond to the figures advertised by the store, for example, because incorrect information about the availability of goods is shown or missing altogether. If a rating request is sent far too early, before the goods reach the customer, the bad rating is almost pre-programmed.
A quick look at the company's FAQ page reveals that the logistics are handled manually ("Send an e-mail to…"). On the other hand, it is obvious that the store – like almost every other larger online store – relies on cooperation with a fulfillment partner.
This creates a veritable problem for the company's social proof. The store we looked at regularly receives bad ratings, without being able to change anything on its own and without enormous effort. This is because the causes of the criticism are not internal, but externally lie with the fulfillment service provider.
For the time being, the store's hands are tied. Unlike Amazon, which was also let down by its fulfillment partners during the 2013 Christmas season and subsequently created its own logistics department, a medium-sized company hardly has the necessary budget for such an action.
Every single bad review is therefore permanent. An opportunity to subsequently satisfy customers does not exist for the store, apart from the adjustment of delivery time details.
Reactions: Responses to negative ratings
The striking difference between in-house reasons for bad ratings and external reasons can be seen very clearly in the way our two sample stores respond to criticism
The five-star store regularly responds directly to its critics, promises to find a solution quickly, and offers incentives for repeat purchases. In the case of the low quality, for example, the store writes:
"Thank you for sharing your opinion. Our jewels are exclusively designed by our team using mainly Silver and Gold materials. Commitment to the quality of our jewelry is one of our fundamental pillars. All our designs are handcrafted with cutting-edge technology, offering an exceptional finish which meets the highest jewelry standards.
During the process of creating our jewelry, all materials used are subject to strict quality controls and are carefully selected and checked. All our jewelry comes with a 3-year warranty from the date of your order's delivery, which will cover any defect in our materials and/or workmanship."
This response to a negative review is just one of many illustrative examples. Because here, the customer's concerns are always addressed directly and personally, and at least improvements are promised. Store number one can react, act and change – and thus turn many a bad review into a good one.
In our three-star store, on the other hand, you look for answers to a bad review in vain. Criticism is accepted silently, always in the hope that it won't have too negative an impact on sales. The only way to change things for the better is to switch fulfillment providers.
Now you know why bad reviews have such a big impact on your business' success. Customers inform themselves before making a purchase, trust the reviews of other consumers and are even willing to spend more money if a store has been rated well.
Furthermore, you have seen that negative reviews usually have different main causes. On the one hand, they are created internally, because problems exist in the context of product quality, a poor product description, or a too cumbersome exchange. On the other hand, it can be an external problem directly related to fulfillment: goods are delivered incorrectly or late, the packaging is inadequate, or the item is lost altogether.
The former is mostly unproblematic; here, the solution is in your own hands. The latter, on the other hand, presents even established stores with seemingly insurmountable challenges.
"Apparently", because solutions exist here, too, of course. We'll explain what they look like in our next article.
Cover image by ShariJo. More images from Trustpilot.
Carolina Engl
Content Marketing Manager