Ecommerce between UK and EU – Alaiko drives expansion to UK
British Minister of State Lord Dominic Johnson visits Munich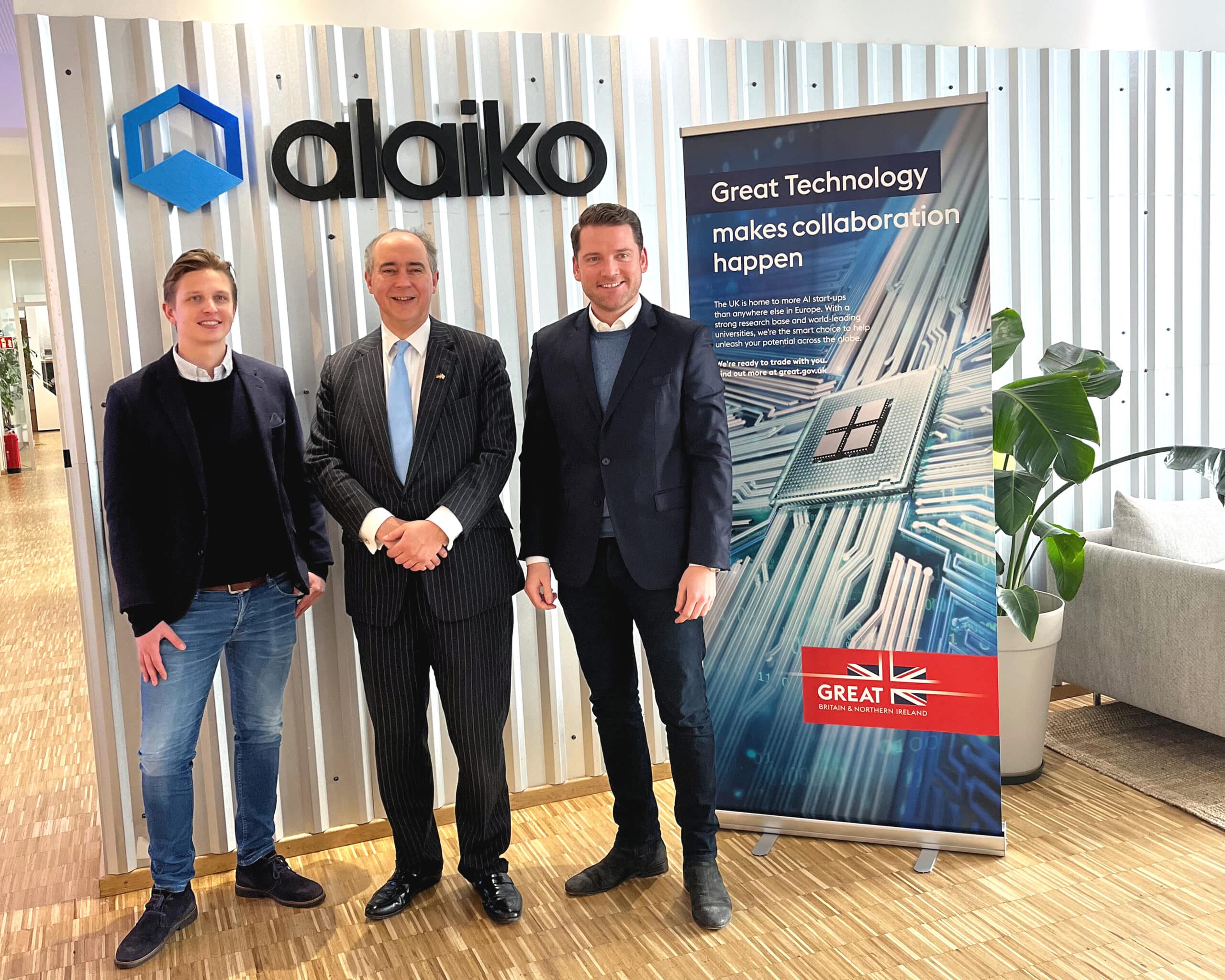 From left to right: Gabriel Thomalla, Alaiko, Lord Dominic Johnson, DBT, and Moritz Weisbrodt, Alaiko. Picture: Alaiko.
München, den 16. Februar 2023 – Alaiko, Europe's fastest growing fulfillment provider handling logistics for Direct to Consumer (D2C) eCommerce businesses, yesterday hosted Lord Dominic Johnson, the UK Minister of State for Investment. The topic of the visit was the German start-up's expansion to the UK and an exchange about the current challenges for eCommerce.
As part of his two-day trip to Berlin and Munich, Lord Dominic Johnson visited the German tech start-up Alaiko. Alaiko is already helping British online stores overcome challenges of selling in the European Union and expand their reach in the German and European markets. This allows them to avoid high costs and long delivery times.
Now Alaiko is expanding to the UK with a warehouse location and an office, supported by the Department for Business and Trade (DBT). This will make it as easy as possible for European eCommerce companies to (re)enter the UK market and will closely connect both markets for stores and consumers. In the coming years, Alaiko will create hundreds of jobs in the UK to drive the expansion of its global logistics platform.
Germany is the UK's second largest trading partner worldwide and a key ally for free and fair trade. Therefore, it is our priority to further strengthen our economic ties with Germany. We look forward to welcoming a greater number of tech companies like Alaiko into the UK's unrivalled $1 billion tech ecosystem,"
The logistics start-up Alaiko was founded in 2020 and just three years after its founding employs more than 100 people in Munich alone. As a fulfillment provider, Alaiko handles logistics for online stores and helps to meet and ideally exceed consumers' high expectations of the shipping experience. After all, they not only expect fast deliveries, but also want to manage their orders transparently and intuitively through to delivery and returns. With Alaiko, online stores not only offer their shoppers the fastest delivery times and proactive communication in the event of changes to the shipment status, but also a seamless platform for the independent management of orders and returns.
We are very grateful for the support and appreciation of our work in the UK. As a fulfillment service provider, we know how important a smooth and efficient supply chain is. Regulatory adjustments and streamlined trade processes will greatly benefit German eCommerce companies looking to expand into the UK – and vice versa,"
says Moritz Weisbrodt, Founder and CEO of Alaiko.
About Lord Dominic Johnson and the DBT
Lord Dominic Johnson has been Minister of State for Investment at the Department for Business and Trade (DBT) since November 2022. The latter is responsible, among other things, for promoting UK trade, investment and business opportunities for international companies worldwide.

About Alaiko
Alaiko is Europe's fastest growing fulfillment provider for leading D2C eCommerce brands. The Alaiko Operating System® enables transparent and automated processes in warehousing & logistics, the control of fulfillment remains in the hands of the online store. Alaiko's network with virtually unlimited growth potential and state-of-the-art warehousing helps online stores efficient and frictionless scaling. The focus is always on the fastest delivery times and the customer experience: customers are proactively informed about the status of their orders during the shipping process and can manage them independently – from delivery to return. This relieves the burden on customer service and online stores differentiate themselves with an outstanding shopping experience in competitive eCommerce.
Alaiko was founded in Munich in 2020. Over 200 successful e-commerce brands, including Hey Marly, gitti, Paperlike, Jokolade and T1TAN are growing with Alaiko's fulfillment solution.